The Good, The Bad & The Nerdy for Nov 6, 2018
After appearing on The Walking Dead for the last time Sunday night, Andrew Lincoln sounded off on the AMC show with The New York Times. He says that he shared many fans' distress at the death of Steven Yeun's Glenn. "Because Steven Yeun was such an important part of the rhythm of my years," Lincoln said. "If anything, it's probably like being in a boy band — you only have each other as a reference point. And then they start taking them away from you."
Plus, he didn't like the way Glenn was killed (with a baseball bat until his eye popped out). "We've been able to terrify people in film for 100 years without having to show an eyeball," Lincoln said. "When that happens, it diminishes what we're trying to make, which in my mind's eye is a family drama set in hell. It's not a sort of B-movie gore-fest." Lincoln also suggested that "it would be more disturbing just keeping the camera on Maggie's face," and that "maybe that's why I want to direct, because I want to make what I've been filming in my head."
This is my absolute favorite thing on the internet right now. "Don't Stop Thanos Now" – relive the journey of the Mad Titan set to Queen's "Don't Stop Me Now". I've already watched this numerous times this morning.
New image from Captain Marvel could tell us what year the movie takes place. "Rock The Vote" indeed.
Greg Kinnear is in talks to star in Fox Network Group's European remake of War of the Worlds, Deadline reports. The script was penned by Misfits' Howard Overman.
The recently launched MTV Studios is set to bring back the classic MTV series Undressed, which explores the dynamics of young adult relationships. Roland Joffe, the two-time Oscar nominated director who created and executive produced the original series, which ran from 1999-2002, will exec produce the new series. MTV Studios is currently reimagining Daria and Aeon Flux (as Made) and The Real World. The Undressed revival news comes as MTV wraps up its fifth quarter of prime ratings growth, its best ratings in seven years.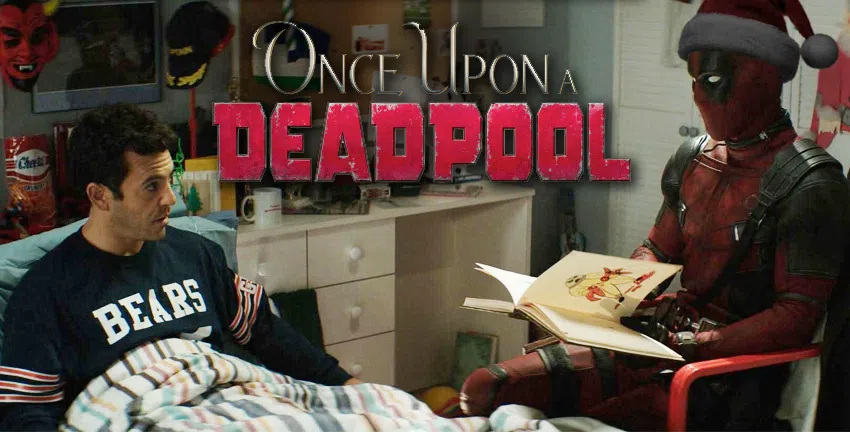 Well, we've been hearing about it for a while and now we have a title: Once Upon A Deadpool is the title for the recut PG-13 version of Deadpool 2 that will grace theaters in a limited run from December 12th – December 24th, complete with a shorter running time (by three minutes) and additional scenes shot especially for this version that star Fred Savage and Ryan Reynolds in a recreation of The Princess Bride's scenes that showcased a young Savage being told the film's story by his grandfather, now with a grown Savage and a regular Deadpool (Reynolds) reading the story. These scenes (eight in total) will be comprised of "interstitial additions" to the cut-down violence and suggestive content.
Shaquille O'Neal and Ken Jeong are going to star in a new reality series titled Unqualified. The pair will take on odd jobs together and will work as mall security guards, substitute teachers and train conductors. The show will be similar to Paris Hilton and Nicole Richie's series "The Simple Life"
HBO's Deadwood movie officially begins production with 12 returning cast members.
Netflix is producing a new documentary about Prince. Director Ava Duvernay tells Deadline Hollywood; "Prince was a genius and a joy and a jolt to the senses. He was like no other. He shattered every preconceived notion, smashed every boundary, shared everything in his heart through his music. The only way I know how to make this film is with love. And with great care. I'm honored to do so and grateful for the opportunity entrusted to me by the estate."