The WQLZ Music Minute--Music news written by Bishop for 92.7 WQLZ, The Rock Station
Tool member injured
There's word that a member of Tool got injured while riding a Vespa and that could delay a new album. You, like me, are asking what the hell is a Vespa … well, it's an Italian made scooter. The accident reportedly happened on icy roads and the unidentified member is said to have several broken bones. We know that guitarist Adam Jones was on TV this weekend getting engaged, and Maynard is revving up for a release from Puscifer and a show in South America with A Perfect Circle. A release from the band says because of the band member's injuries directly affecting their instrument playing abilities, so we think it's possibly drummer Danny Carrey, but we can't be certain. The release says after the trip to the hospital and a rather quick healing process, the band got back to jamming on a new record last week. We'll keep you posted on details as we get them.
Preparing new album
Sick Puppies say they have narrowed down a new album from 70 songs. Bassist Emma Anzai says on Tumbler that the band has been super productive and they may release more than just the 12 tunes on a forthcoming album, but they are perfectionists so they still have to work out all the details about what will be on the new album. Still no word on a release date for the new attempt but it would be the first for Sick Puppies since they released Tri-Polar in 2009.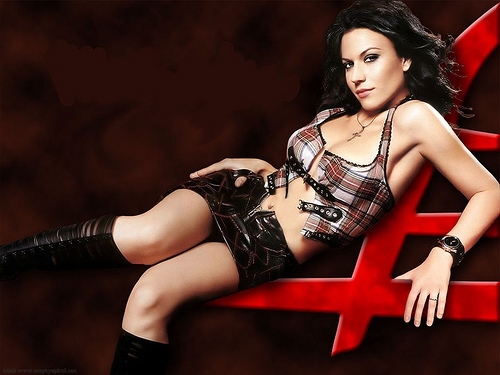 A hot pic of Emma Anzai, just for the hell of it ...
Navarro on SVU
His last appearance was on a PETA ad where he was naked and there were, what appeared to be, chunks taken out of his flesh. Now Dave Navarro is on an episode of Law and Order: SVU. TVGuide.com says the rocker will play a sound engineer who witnesses a crime. Navarro tweeted earlier this week saying he was on his way to hang out with Detective Benson for the day. His last acting gig was on Sons of Anarchy last year.
Catch the Music Minute every weekday with the Free Beer and Hot Wings Show on 92-7 WQLZ, the Rock Station