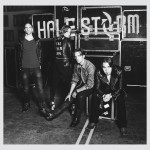 Halestorm promised some big news for January 12 and they delivered!
The band released the first single from their new album 'Into The Wild Life' called 'Apocalyptic.' The album will be in stores on April 8th in the U.S. and pre-orders can be made here: http://smarturl.it/intothewildlifestore
Lyzz had this to say about the album:
This album is not a departure, it is an invitation to all things Halestorm. We didn't stray from who we are, there's just a lot more of who we are. If you dare, start with the outer most layer of the onion, our first single "Apocalyptic" which is the medium between where we left off on "The Strange Case Of.." and where "Into The Wild Life" begins.

Lyrically and musically, we explored everything that makes us tick. We set a standard for this record, and gave ourselves no choice other than to be unapologetically Halestorm in every way. In a time where everyone is freaked out about the state of music, rock n' roll, hit singles, sales….we decided to ignore all of that and make a true album.

My insider's advice: Close your eyes and listen to the album from start to finish. There are some surprises that await you inside that are well worth the journey. Enjoy!"

We'll also be hitting the road this April-May in the U.S. with The Pretty Reckless as support on a Carnival of Madness Powered by Monster Energy tour. We'll also be announcing a second opener to that tour in the coming weeks too!
Check out the new single below and stay tuned to QLZ for more info!

Tags: