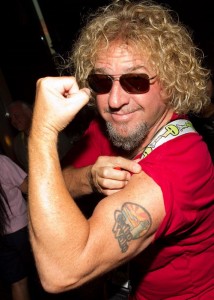 Hagar suit
Sammy Hagar is in some hot water over a trist he may have had a couple of decades ago. A former Playboy bunny in Iowa could sue the rocker for libel as well as invasion of privacy and breach of contract. Apparently Hagar put some allegations about the women in his 2011 memoir. A lawsuit had been dismissed last year but an appeals court says the women has established some facts and a jury should decide the fate of the case. The woman says she gave birth to Hagar's child in 1989. The child later died. Hagar denies being the father and doubts she had a baby and claims she's guilty of extortion. What a flippin' mess.
New Dope teaser
More is known about a new Dope album. The Chicago natives posted another video teasing the album Blood Money which is expected Spring of 2015. Earlier this week the band posted the video for the tune "Selfish" which will be available for download September 12.
New Mushroomhead video
Mushroomhead are back at it with a new tune and video that will surely creap you out and give you nightmares. The masked rockers are seen in some neo nazi regailia without being blantatnly neo nazi. Instead, their logo of an ghoul with X-ed out eyes is on flags and arm bands and uniforms. The tune "Out of My Mind" is from the album The Righteous & The Butterfly which came out in May. The video isn't for the faint of heart. Close to the end there's a torture scene with back piercings, waterboarding and other images you may shy away from.
Quick recording
So how long did it take to record AC/DC's new album? Ten days … that's it. Considering they had a new guitarist with them in place of Malcolm Young, it's quite the feat! But then again, the band is full of veteran rockers. So what do you expect? There's still no word on when the new album will be released.
Catch the Music Minute every weekday with the Free Beer and Hot Wings Show on Springfield's Real Rock 92.7
- See more at: http://wqlz.com/music/music-minute/archives/2014-08/#sthash.5hpsCupm.dpuf